Urban farming as a key driver of sustainable food systems and women's economic empowerment in Kenya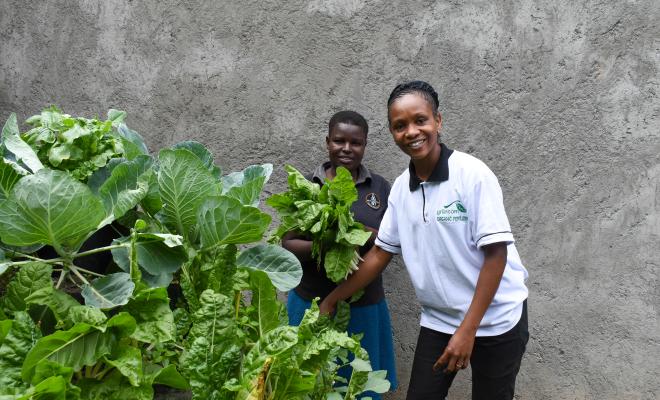 Africa's population will double by 2050, and more than 80% of that increase will occur in urban cities, thereby creating a higher demand for food in urban areas. Urbanisation has led to the transformation of food systems by influencing trends in food demand and redefining consumer preferences, impacting how, where, and what food is produced, supplied, and consumed. Furthermore, Africa's urban and peri-urban areas are likely to suffer disproportionately from climate change, as the region as a whole is warming up 1.5 times faster than the global average. The strain on basic services such as clean water, housing, health services, and nutritious diet is worrying.
To curb the challenge of food insecurity in urban dwellings in Africa, the adoption of urban farming is inevitable. The lethal combination of rapid population growth, urbanisation, and climate change poses an ever-growing threat to food security. With the recent growth of urban population, food demand is also on the rise. Food demand is projected to rise 2.5-fold in sub-Saharan Africa by 2050 compared to 2010. According to IFPRI, the projected demand for meat, cereals, and fruits and vegetables on the continent is expected to more than triple by 2050. This increase is related to the expected increase in wealth and concentration of welfare, mostly in urban areas. Similarly, urban food environments provide more options for food products which typically include unhealthy and processed foods containing unhealthy amounts of sugar, salt, and fat available at cheaper prices. Although diverse nutritious foods options are also available for middle and upper class urban households, poorer urban households tend to prioritize sustenance over nutrition, and thus opt for affordable foodstuff and not necessarily nutrient-dense. This increased food demand and changing consumption habits are leading to a concomitant rise in net food imports in Africa, expected to grow from $35 billion in 2015 to more than $110 billion by 2025. Such high import costs can effectively be countervailed by increased food production within the continent.
Urban farming has the potential to diversify economies, increase food security and improve nutrition. It also provides an opportunity for climate adaptability options by reducing reliance on long distance transportation of agricultural produce, employing resource-efficient growing techniques such as vertical farming and hydroponics, composting of organic urban waste, among others. These practices result in reducing carbon emissions, optimizing use of space and water, and increasing resilience in the face of limited resources and changing climatic conditions. Since organic inputs are derived from recycled organic waste, and natural sources such as plants, microbes, or insects like the black soldier fly, they help farmers reduce reliance on synthetic pesticides, which are produced through energy-intensive processes that generate significant greenhouse gas emissions. The overall outcome is a sustainable and nutritious food production chain for urban dwellers, with fruits and vegetables like cabbage, lettuce, tomatoes, chillis, and onions coming increasingly under production.
African women play a pivotal role in driving food security in both rural and urban households. In urban areas especially, women are increasingly concerned about promoting good nutrition and dietary diversity for themselves and within their families. They are often involved in urban farming and community gardening initiatives, optimizing small home spaces to grow vegetables and herbs. In Kenya, a powerful movement is steadily taking root, transforming the agriculture landscape, and fostering women's economic empowerment. Urban farming has emerged as a key driver of sustainable food systems, not only nourishing cities with fresh, nutritious produce but also offering a compelling solution to the challenges of food security, climate change, and gender inequality. Intellecap through its project, Reorienting the Private Sector to Enable Climate-Smart Agricultural Solutions to Address Gender Inequalities supported by IDRC, is working with 10 private sector enterprises (PSEs) (who have innovative business models that address climate change impact in the agriculture sector) to use gender-transformative approaches to scale their businesses. One of the PSEs that the project is currently supporting is Griincom Innovate Limited in Kenya. Griincom Innovate Limited is located in Nakuru County. Its business model entails recycling organic waste into organic farm inputs such as organic fertilizer, organic pesticide, and organic foliar as well as training smallholder farmers on efficient methods of farming. Foliar fertilizers are applied on the leaves or used in drip systems to boost plant performance. For the pesticides, they combine plant extracts (from select crops and indigenous plants) and rabbit urine through a fermentation process to produce the organic pesticides. The pesticides are used to control cutworms, aphids, cabbage looper, fall army worm, stalk borer, etc.)
Image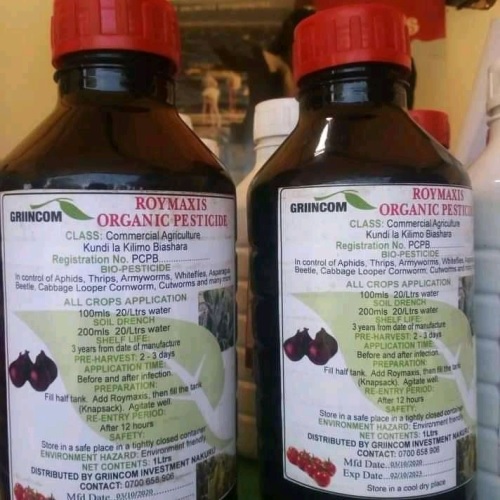 Griincom's business model contributes immensely to the uptake of urban farming in Nakuru County (a region in Kenya that has both urban, peri-urban, and rural dwellers). Firstly, Griincom collaborates with urban dwellers and the county government to off-take kitchen organic waste and market organic waste respectively. In the case of the urban dwellers, Griincom encourages them to sort their household wastes into organic and non-organic waste, and thus prompts their interest in the use of organic waste through composting for direct usage in their gardens or earning from sales of the wastes to Griincom. The county government on the other hand act as a collaborator, providing an enabling environment through policy framework and allowing access to organic wastes produced by traders in markets within their jurisdiction, which Griincom then offtake for commercial composting.
Secondly, Griincom trains the urban dwellers on how to set up kitchen gardens. For instance, through demonstrations they have educated women on how to use various materials such as tire, flower vases, jerry cans and shed nets to design urban farms in their kitchens, verandas, and backyards. Thirdly, through trainings, Griincom demonstrate to urban farmers on how they can utilise their kitchen waste as organic input for their small gardens. Finally, Griincom's products are available in both small and large quantities in the county, allowing urban farmers with small gardens to afford their inputs.
Griincom as a champion for inclusive value chains
Griincom's production has contributed immensely to women's economic empowerment in Nakuru County, thus improving their livelihoods. Firstly, Griincom encourages women, who are the primary workers at home, to sort their kitchen waste into organic and inorganic waste and then collect the organic waste from them at a small fee. When food ends up in landfills, ethane, it generates methane, an even more potent greenhouse gas than CO2. As such, by sorting organic waste at the source, the overall amount of waste sent to landfills reduces, thereby mitigating greenhouse gas emissions.
Secondly, Griincom trains women on composting kitchen waste into organic fertiliser that can be applied in their backyard gardens, thus increasing food production. Engaging women in the process of value addition of household waste to make organic fertilisers empowers them to contribute financially to their households and communities and to a circular economy. Thirdly, Griincom works with women farmers who rear animals such as rabbits and chicken for subsistence production as well as organised farmer groups. Griincom train the women on how to aggregate their animal waste which are then purchased as a raw material for the manufacture of Griincom's organic products.
Over the past three years, Griincom has trained over 200 women farmers in Nakuru County on household and livestock waste management, composting, and sustainable farming practices. These trainings have equipped women farmers with new skills and knowledge, empowering them to become more effective and efficient farmers, reduced their dependency on expensive synthetic fertilisers and pesticides, helped diversify their income streams, and enabled a majority of the women to engage in commercial production.
Image
Image source
Griincom urban farming
Griincom as a changemaker in driving a sustainable economy
Recently, Griincom participated in the 2023 Nakuru National Agricultural Show, themed, "Promoting Climate Smart Agriculture and Trade Initiatives for Sustainable Economic Growth." At the event, the Griincom team leveraged demo plots on the show ground to demonstrate how a small plot of land can be optimised for food production and show the significant difference in yield of crops grown using organic inputs versus synthetic inputs. Based on field data provided by Griincom's CEO, Mildred Gachoka Day, Griincom's clients have recorded 40% to 50% increase in production after the 2nd and 3rd application of organic fertiliser respectively, compared to those who use non-organic inputs. Use of organic inputs has also reduced the cost of crop management and replanting by >50% for Griincom's clients. These results show the tremendous potential for scaling up sustainable food production on the continent. By participating in events such as the Nakuru Agricultural Show, Griincom is able to reach both rural smallholder farmers and urban food producers, including private, public, and development sectors alike to support climate-smart innovations in the landscape.
In conclusion, urban farming presents a huge opportunity to achieve the much-needed balance between environmental stewardship, meeting the rising demand for food, and empowering women in sustainable food production. It is vital that players in the food system lead the adoption of urban farming through innovation, awareness creation, and capacity building. 
It is in this vein that Intellecap is supporting Griincom and other similar private sector enterprises with relevant technical assistance to improve their business model to reach more women actors in the food system, implement tailored marketing approaches, and identify new opportunities for growth, critical to creating more resilient and thriving communities. Other stakeholders, African governments, policy makers, and donors must also join the race to accelerate the adoption of urban farming through shaping policies, generating awareness by leveraging platforms such as the Nakuru National Agricultural Show, and channeling investments for the uptake of sustainable farming practices.