Green enterprises are empowering marginalised women and beating plastic pollution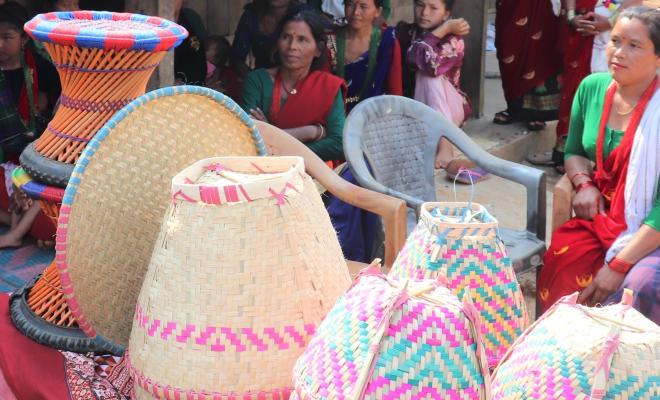 Nepal has an illustrious reputation for its beautiful mountains, but has now been taken over by a storm of plastic pollution, which forms mountains of waste in urban spaces and creates detrimental effects on human health. Nepal generates roughly 2.7 tons of plastic waste each day; 16% of urban waste is plastic. Kathmandu alone uses 4,700,000 to 4,800,000 plastic bags daily, according to research by ICIMOD.
Indeed, plastic pollution is a global scourge: by early 2023, court cases concerning plastic pollution had been reported in more than 30 different countries. World Environment Day 2023 turns a spotlight on the problem and urges collective action to stop it.
While the world commemorates World Environment Day, the 30 rural and marginalised women entrepreneurs of three community forests involved in the project Economic Empowerment of Women Through Forest-Based Solutions have an ecofriendly alternative to the plastic crisis. It is bio cups and plates, also known as Duna Tapari in Nepali, which have been used in the country for food packaging, for time immemorial. The cups are made from naturally fallen leaves and sustainably picked from self-sustaining sources like Shorea robusta (Sal leaves).
Image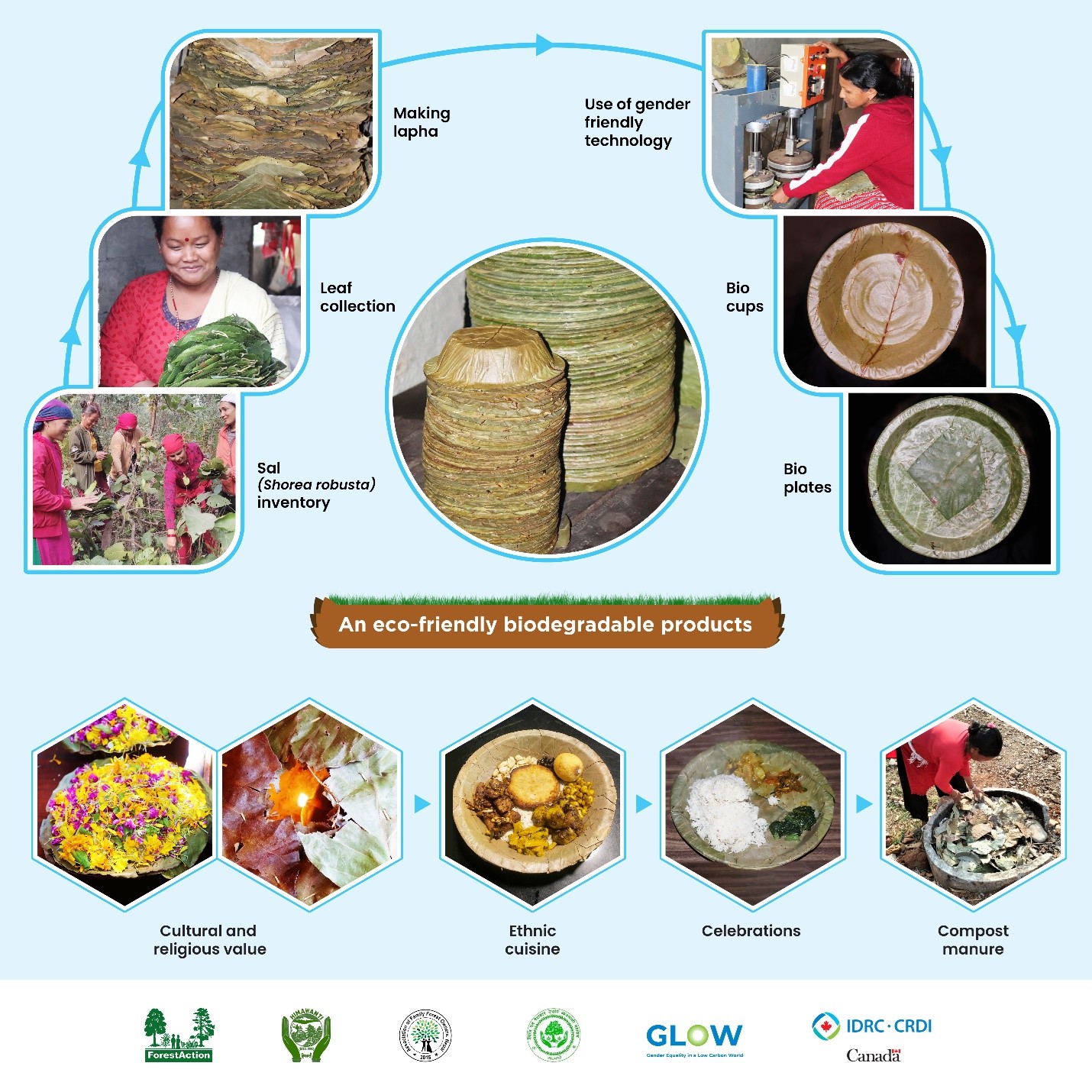 Image source
Forest Action Nepal
The women are modernising the once-arduous, traditional occupation of making these plates, by now using low-carbon, women-friendly technologies. To achieve this, the project is empowering women entrepreneurs on gender and social inclusion issues, providing skill-based trainings, and group management training, and forming women's leadership circles.
Image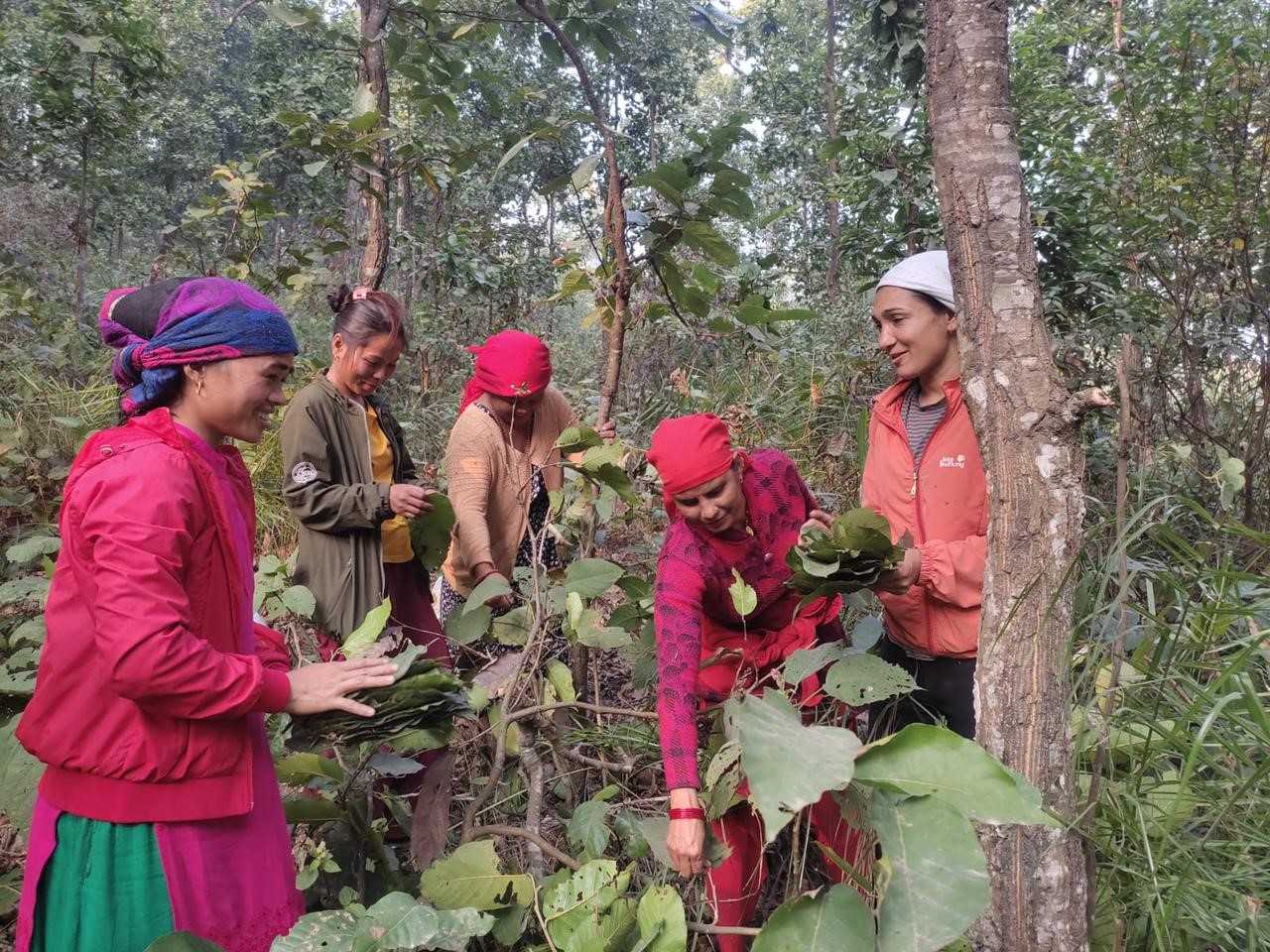 Image source
Usha Thakuri, Forest Action Nepal
The women undertook an inventory of Sal leaves in their local forest area. The information was then integrated into the community forest management plan, which opens avenues for the women to establish multiple enterprises based on the non-timber forest products.
The fresh green leaves are collected manually without harming trees and dried to make lapha – a couple of leaves stitched together with bamboo pins which are then pressed by electric machine to achieve an appropriate size and finish.
This process is efficient, timesaving, reliable, hygienic, and easy to operate. What is more, using clean energy technology aligns with the goals of SDG 7, Affordable and clean energy," empowers women, bridges the gender development gap, and helps to build a new identity for rural women as those who handle electric machines.
Image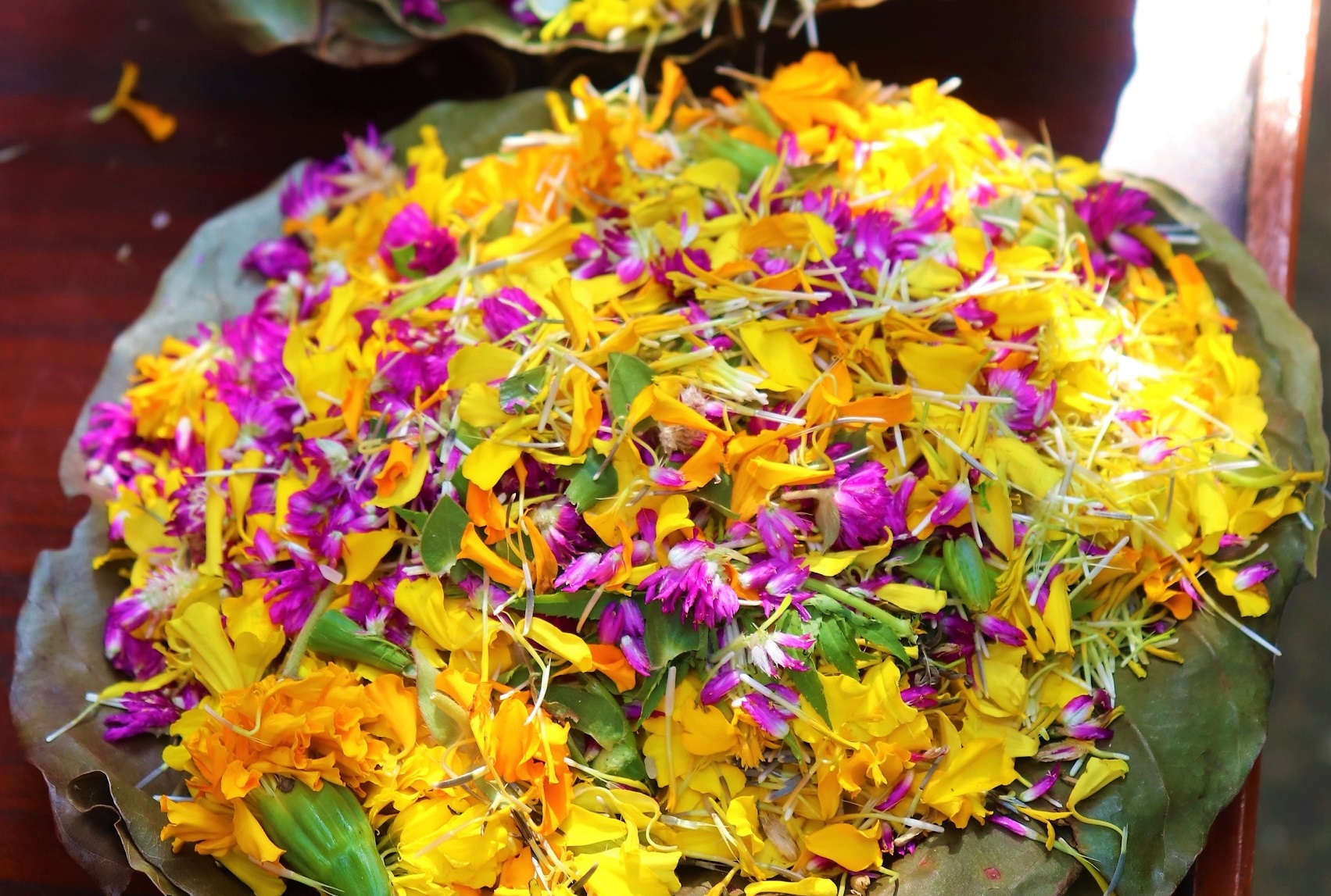 Image source
Aarati Khatri, Forest Action Nepal
These women entrepreneurs have left no stone unturned in exploring markets for their products. Sal products are profoundly connected with Hindu culture and have strong religious relevance. People use them in all major life events from birth to death, such as weaning ceremonies, birthdays, exhibitions, workshops, social gatherings, marriage, community feasts, ethnic celebrations, parties, and funerals.
In recent years, Sal products have become popular with hotels, restaurants, homestays, event planning organisations, international and domestic non-governmental organisations, tourist attractions, etc. Due to their renewability, non-toxicity, high socio-economic value, strength, and durability, these products have grown commercial markets in both the national urban space and international markets.
In addition, these products have multiple environmental benefits. In many aspects, this eco-product is considerably superior to plastic. Contrary to plastics that are composed of polymers, oil, and fossil fuels, which pose a serious threat to living things, its raw materials are rich in sources of various flavonoids and exhibit anti-inflammatory, antibacterial, analgesic, and wound healing activities. Plastic takes around 20–500 years to decompose, leaving hazardous scars on the Earth that affect generations. But these biodegradable cups are converted into manure and dissolve into the soil, creating more life through their organic manure.
This climate-smart innovation also aligns with the SDG Goal 12: Responsible consumption and production, and Goal 13: Climate action respectively. Since the overall process of preparing Sal leaf products involves manual labour and the use of renewable energy, these products emit less carbon compared to plastic. Emissions are about 6 kg of CO2 per kg of plastic.
Every sector is touched by the plastics that create massive carbon footprints. Replacing the deep-rooted plastic economy overnight in a developing country like Nepal is a herculean task, as numerous livelihoods are connected with it. But it's critical to take one step at a time.
It's predicted that by 2050, we'll be making approximately four times as much plastic as we do now. And based on the current situation, the OECD predicts that by 2060, plastic trash is predicted to triple, with half of it ending up in landfills. In the era of climate crisis, behavioural shifts to eco-friendly consumption and embrace of green attitudes is urgent. There is a pressing need to have zero impact on the environment and for each person to become an eco-champion of their own.
Image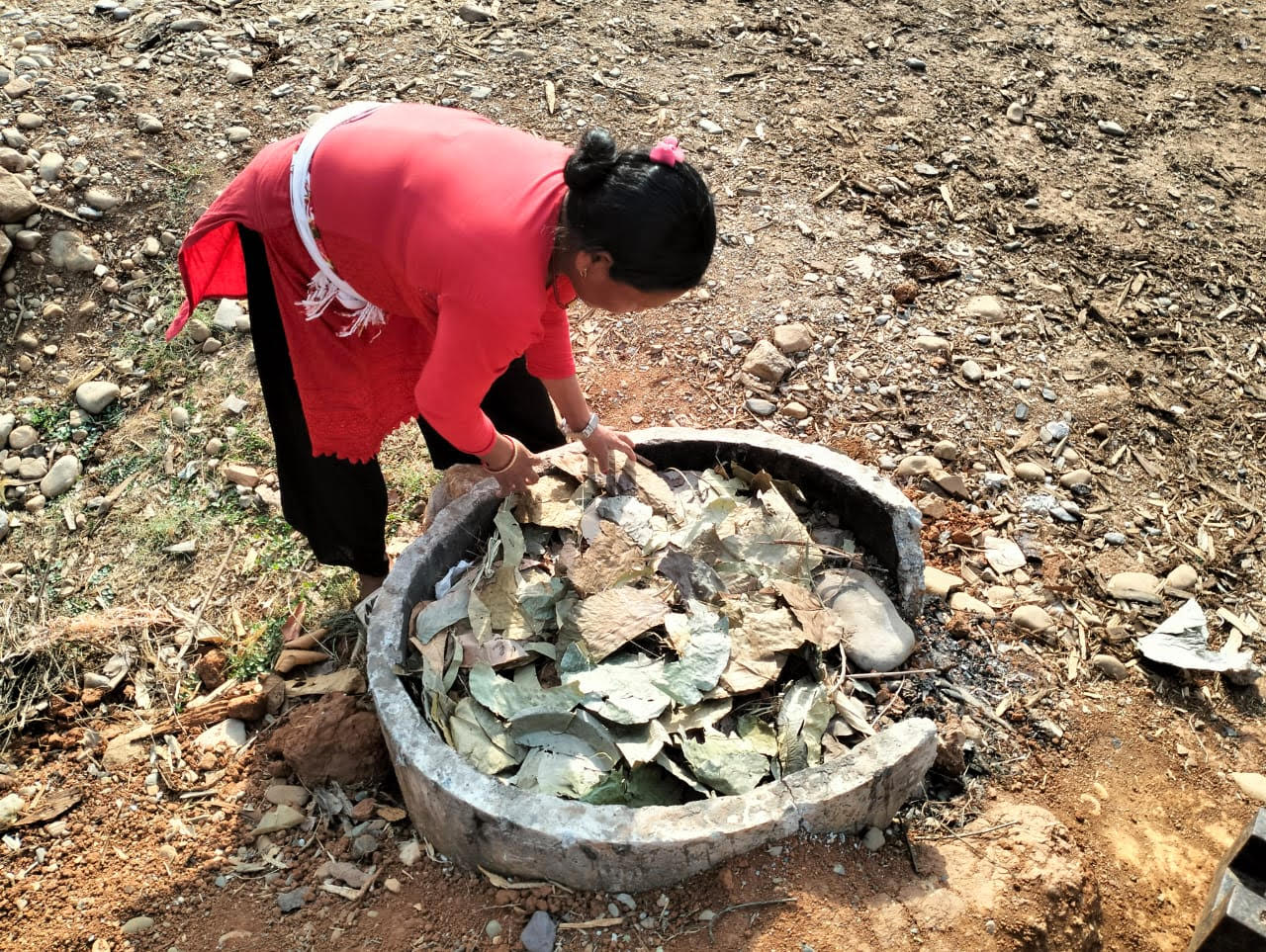 Image source
Kamal Bhandari, Forest Action Nepal
To develop the culture and practice of green packaging use in our daily routine, a robust and comprehensive policy intervention to discourage the use of plastic is a must. Providing incentives, subsidies, and tax exemptions for eco-friendly products would be appropriate efforts by the government. Furthermore, increasing taxes on plastic products that compete heavily with the bio-products would motivate women entrepreneurs to produce bio cups and plates at a larger scale.
These bio cups and plates can be a ray of hope for a sustainable environment, supporting marginalised sections of society, especially rural women, to improve their livelihoods and become economically empowered. Next time you buy these plates, you are also supporting and rewarding the hard work of these women, who have fought countless internal and external patriarchal, wars against gender stereotypes to be entrepreneurs. It is time to accelerate this action and switch to a bio-based circular economy and reimagine a plastic-free environment.
Share this:
Article Details