Creating Indigenous women's green jobs under low-carbon Covid-19 response and recovery in the Bolivian quinoa sector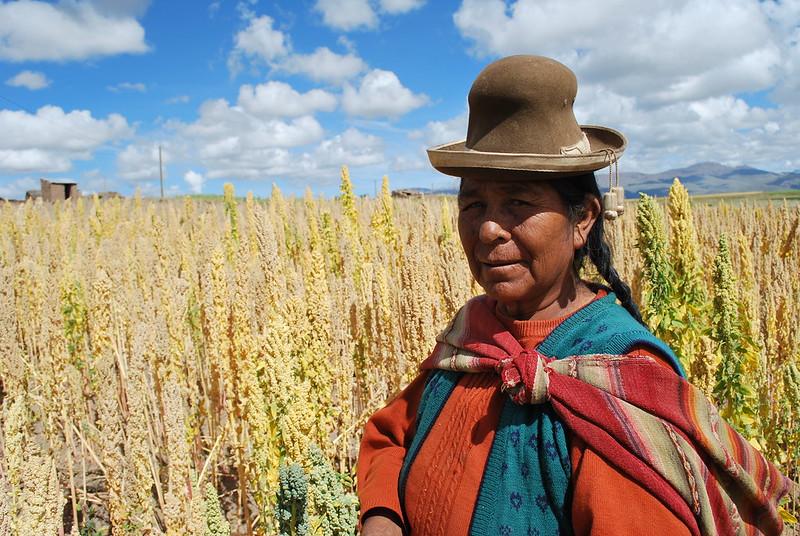 Context
The Bolivian Andean Altiplano has extremely harsh climatic conditions for agricultural life and production. Quinoa production has become the main livelihood for many indigenous households of the region. However, this strategy has not translated into better living conditions and green jobs. Moreover, with adverse climatic, economic and, recently, health scenarios, the vulnerability of the households has been exacerbated and their resilience capacities have diminished.
Creating decent employment – which is one part of the green jobs concept– is a supreme development goal established in the new Bolivian Constitution of 2009, which seeks gender equality, and it is part of Agenda 2030. However, household survey data for 2019 shows that 91% of agricultural employment is vulnerable, with women, mostly indigenous, having the worst rates.
On top of this, the Covid-19 pandemic worsened the labour situation of small quinoa farmers, both in terms of accessing agricultural inputs, as well as harvesting, marketing and distribution activities. Furthermore, their livelihoods, associated with high labour mobility from agricultural to non-agricultural activities, have been limited by the pandemic.
Objectives
The main goal of this research project is to build broad social protection system evidence based on green jobs for indigenous women, in response to a low-carbon Covid-19 recovery in the Bolivian quinoa producers sector.
Green jobs, focused on indigenous women, are the desired main result of the research under two dimensions of this multidimensional concept: socio-labour protection and fair, stable and sustainable income.
Partners
This project is led by the Institute for Advanced Development Studies (INESAD), in collaboration with the Instituto de Investigaciones Económicas, Universidad Técnica de Oruro and the Universidad Privada de Santa Cruz de la Sierra. 
Activities
Project activities will include:
A diagnosis of the Bolivian social security system with focus in the quinoa sector
A pilot project on the design and implementation of a policy to increase the coverage rate of social protection (health and pensions)
A gender intersectional study of the quinoa sector producers aligned to green jobs
A pilot project on the design and implementation of a climate-adapted best agriculture practices measure to increase fair, stable and sustainable labour income
Estimation of water and carbon footprints of the quinoa sector (in the project location), and the changes that may occur by applying climate-adapted best agriculture practices
A quinoa sector's proposal for access to parametric agricultural insurance
A quinoa sector's proposal for the voluntary carbon market
Contact
Dr Beatriz Cristina Muriel Hernández, Executive Director, INESAD
Email: bmuriel@inesad.edu.bo
Share this:
Project Details