Experience of climate change impacts and adaptation among smallholder farmers in Nepal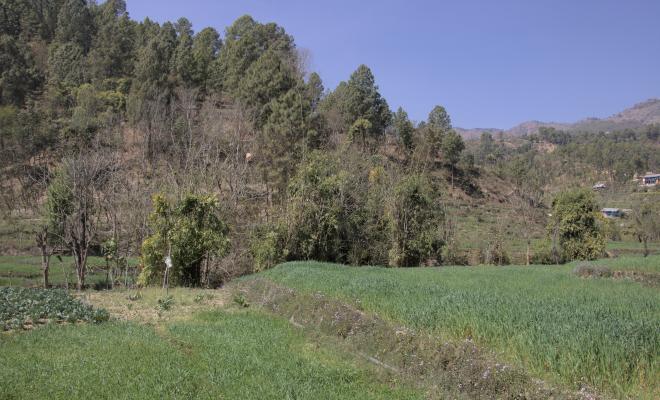 Men are migrating from Nepal's rural areas in search of work, and this leaves women to navigate the impacts of climate change on agriculture - Rupesh Tha and Anisha Joshi of SIAS report.
Climate change is imposing heavy costs on smallholder farmers and local communities whose livelihoods are based on natural resources, in developing countries across the world. Impacts and responses range from erratic crop yields to climate-induced migration.
As rural and agricultural livelihoods are closely bound with natural conditions and the market systems under which they operate, climate change impacts challenge global progress toward poverty alleviation, food security, and sustainable development. If not mitigated, it is expected that climate change will push at least 130 million more people into poverty within the next 10 years. Smallholder farmers the world over depend on rain-fed agriculture and cultivate marginal areas, and a dearth of technical and financial support has led them to be most vulnerable to climate change.
Over the course of the "Co-Producing a shock-resilient business ecosystem for women-led enterprise (CREW)" project, we have closely observed how people in agrarian communities in Nepal are making efforts to adapt to these changes. We examined thoroughly how rural and smallholder farmers have been experiencing climate change impacts—particularly in the districts of Ramechhap and Arghakhanchi. In the accompanying technical document, we provide details of the gender and age breakdown of the population surveyed. In this blog, we share key findings on how:
A survey of climate impacts in rural Nepal
The baseline survey (see detail in Table 2 here), closely examined how exactly individuals in Ramechhap and Arghakhanchi have been experiencing climate change. The survey revealed that a significant percentage of respondents in both districts have experienced irregular or erratic rainfall and frequent occurrences of extreme temperatures. In Ramechhap, 66% of respondents reported experiencing such phenomena, while in Arghakhanchi, a staggering 97.2% of respondents reported similar experiences.
In addition, the survey findings suggest that extreme temperatures are also a prevalent issue in the districts. In Ramechhap, 55.3% of farmers reported frequent occurrences of extreme temperatures, while in Arghakhanchi, the figure significantly increased to 97.9%.
Such occurrences can have significant implications for the agricultural sector, and exacerbate climate impacts on livelihoods in the region. The high percentage of respondents experiencing these phenomena underscores the urgent need for climate change mitigation and adaptation measures in the region. It is also noteworthy that vulnerability to climate change is not limited to any particular demographic as defined by ethnic group, gender or education status, demonstrating that these experiences are widespread, rather than being contingent on demographic factors.
Most farmers in the study sites directly depend on the natural climate for farming, such as by primarily relying on rainfall for irrigation, or forest resources for grazing and fodder. Consequently, changes in temperatures are cause for concern for the country's food security, as are droughts, flooding, and erratic rainfall. Such impacts significantly obstruct farming and damage agricultural products. The baseline survey established that there is decreasing frequency but increasing intensity of rainfall during summer, delays or complete absence of rain in the winter, hampering a crucial source of irrigation (Table 3).
Subsequently, 39.8% of farmers in Ramechhap have experienced a shift in crop planting dates, and the situation is even more alarming in Arghakhanchi, where 97.2% in Argakhanchi district have experienced the same. Furthermore, 90.3% of Ramechhap and 97.2% of Argakhanchi district have experienced an unforeseen incidence of pests and diseases over the last 5 years.
Over several field visits the CREW team made to Rampur, Ramechhap, it was very clear that Rampur was extremely dry to the detriment of agricultural activity and farmers' livelihoods. While there is now a water lifting system that supplies water for household usage once a day, households need to pay for the water they get from the local spring, and neither source is adequate for irrigation. In February 2023, locals informed us that there had been no rain at all since the previous year's monsoon. As the vast majority of young men from Ramechhap leave the district to work in other cities or countries, many women farmers run their families' farms on their own. Such experiences of climate change present an additional burden to women, as agricultural products are important to generate additional income and for household consumption needs.
A knowledge gap on how to respond
Our research also found that although experiences of climate change are alarmingly widespread in both Ramechhap and Arghakhanchi, there is a significant knowledge gap regarding climate change adaptation among the surveyed population. While significant percentages of farmers in both districts have suffered in their farming due to the effects of climate change, worryingly low percentages of the surveyed population in both districts have taken on adaptation initiatives, participated in mitigation initiatives, or attended training and awareness programs related to climate change.
The baseline survey shows that only 1% in Ramechhap and 1.7% in Arghakhanchi district have started adopting climate change adaptation initiatives among community forests and agroforestry. Likewise, only 2.4% of respondents in Ramechhap and 3.2% of respondents in Arghakhanchi have attended training and awareness program related to climate change and climate adaptation and mitigation. This dearth of knowledge of coping mechanisms for climate change disasters in the agricultural sector is a pressing concern that must be addressed immediately.
While the baseline survey revealed that there is a major knowledge gap, a few farmers in Arghakhanchi and Ramechhap are beginning to experiment with new practices to counter climate impacts on their farming (see Table 4, detail). A few farmers in Argakhanchi district are beginning to substitute their crops with crops that are less water-demanding, and have started using greenhouses. Some farmers are also introducing a mixed cropping system to reduce the risk of complete crop failure due to drought or untimely and heavy rainfall. For example, many farmers are planting maize and beans at the same time, with beans planted along the edges of the terrace fields to stabilise the soil and reduce the risk of soil erosion and landslides.
Apart from government initiatives and adaptation practices devised by the farmers themselves, some non-governmental organisations (NGOs) are also working to initiate mitigation and adaptation efforts to climate change impacts through local seed-saving programmes, community forest programmes, and women empowerment programmes. Although the present data on farmers' knowledge gap on adaptation in the study sites is concerning, more farmers in the study sites can take up such measures as a part of their adaptation efforts to build resilience to climate impacts on their livelihoods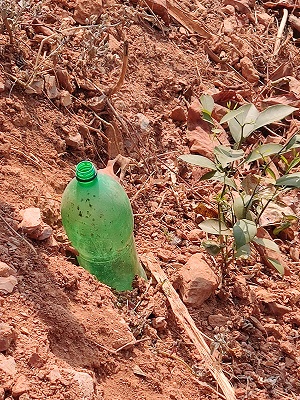 Many farmers have also started to improvise coping mechanisms to counter the lack of resources—such as in this image (above), where a farmer in Ramechhap has improvised a drip-irrigation system by lining the edges of his field with used plastic bottles that collect condensation overnight.
In both Ramechhap and Arghakhanchi, women in particular face additional burdens as a result of experiences of extreme climate and due to the lack of knowledge of how to adapt to such effects. Over the past few decades, both districts have seen a heavy outflow of young men of working age who leave their villages to seek work in major Nepali cities or abroad to supplement their families' incomes. Consequently, for a majority of the year, many women must manage their agricultural work and household responsibilities on their own—from collecting fodder for livestock and carrying loads of manure to the fields to sowing the crops for the next cycle. Many women must navigate the uncertainty and damage sustained by their crops on their own, as their husbands are not at home.
Female interlocutors in both the districts mentioned that while the remittances their husbands send have been crucial in sustaining household expenses, managing the work at home and in their farms alone is exceedingly difficult and time-consuming. Many interlocutors mentioned that most days during the peak farming season, in between taking care of the household, their children, their livestock, and their farm, they hardly have time to eat.
Time and again in history, the vulnerable and marginalised populations, particularly poor women, have been the most badly hit by disasters and crises. Rural and poor women are one of the most vulnerable and disadvantaged populations in Nepal, and the onset of climate change has maximised their burdens to an overwhelming extent, as many of their husbands leave home in search of other cash-earning sources of livelihood. In the face of such unpredictable climatic conditions, it is very challenging for farmers, and especially women who are managing their farms alone, to cope with climate change and get support from the government or any other stakeholders. The data from Ramechhap and Arghakhanchi reflect that there is an urgent need for plans of action that focus on mitigation and adaptation measures, so that the most vulnerable rural populations can build their capacity to adapt to our rapidly changing climate.
Story behind the picture (top, SIAS):
This is a field in Amilye, Arghakhanchi, managed by a woman who complained that there are frequent wildlife invasions on her crops. This is a problem common to most farmers in both Arghakhanchi and Ramechhap, where over several field visits farmers consistently mentioned that monkeys, deer, and boars, (as well as porcupines in Ramechhap) have been damaging their crops at an alarming rate. Farmers mentioned that while in the past, the animals mainly only invaded farmed land near forests, these days, animals even come right up to their homes and kitchen gardens. Due to the high rate of out-migration and labor shortage in these districts, women also mentioned that they could not manage keeping watch over their fields to scare the animals away on top of all of their other work, whereas in the past, it would have been feasible for some members of the household to watch out for invading animals.